Advertisement


Published: December 29th 2021
---
Today was a busy day, quick breakfast in the hotel then off to our Cooking Class at the Santa Fe School of Cooking. There is also a great shop which has everything you need for New Mexican cooking.
Normally, we prefer to take a hands-on class, but there were just not much in the way of hands-on offerings that also included eating what you cooked. So, we took a Demo class entitled "Traditional New Mexican I." The chef had a great deal of experience including formal French training. Chef Mary Don Wright, did a great job of explaining everything form the types of peppers to the actual process of making your red or green chile. It was the best demo class we have taken, since taking one from our Friend Tina Brusha at the Portland Whole Foods.
The menu was as follows:
Green Chile Chicken Enchiladas, Red Chile Vegetable & Cheese Enchiladas, Corn Tortillas, Pinto Beans, Posole and Capirotada (pecan bread pudding.) We of course got all the recipes which Jerry and I took several important key notes about the process and ingredients.
We learned several new methods to make green and red chile sauce, including special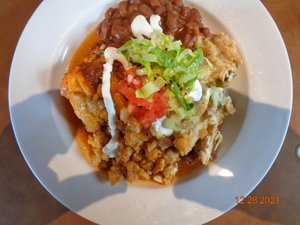 The Finished Meal
---
Dish of the Day
key ingredients that just adds increased flavor. The enchiladas were done in the traditional New Mexican way, stacked not rolled. The fresh corn tortillas were the best ever and just soaked up the sauce from the green or red chile sauce.
The red chile sauce and the green chile sauce were the best we have had on this trip. Best part is that the recipe is not overly complicated or time consuming, like others I have made in the past.
The Posole, was exceptional, definitely the best we have had so far. This was not Posole stew but Posole as a side. To make a good Posole does take time, at least 4 to 5 hours of simmering to get the Posole (Hominy) to open up like a flower. The Posole we had did not have any meat, but pork is certainly an excepted addition. It did have a bit of both the red and green chile sauce added to it.
The Pinto Beans, were simply the best I have ever eaten. The recipe has more ingredients that I have ever seen for a pot of beans, but they were all necessary to get the result and
the flavor. An optional ingredient is epazote (a Mexican herb that helps remove the gas causing effect of beans.) Again, the beans contained no meat just lots of aromatics.
The Capirotada is the easiest bread pudding ever. It has no eggs, and very little dairy, other than butter. The base is caramelized sugar, which you then had water, not cream or milk but water. This then dissolves further. The last addition is the butter, but butter is actually optional. That is pretty much all there is to it, you pour it in to your dried bread crumbs mix and some cream if desired. It is then topped with pecans and Jack Cheese. It was really good.
Everything tasted so good, probably the best lunch we have had on the trip.
After the cooking class, which just happened to be a block away from our hotel, we got in the car and headed out for the high country and Vivac Winery. Evidently, New Mexico has the oldest wine history in the United States. There are 60 wineries in the State, far far less than what is in Yamhill valley alone. It took about an hour to get to
the winery, which is just off NM 68. We had a four-wine flight. To see what we had please refer to the picture. The best of the 8 tastes was the Merlot which I did purchase a bottle of.
When I went back in to by the Merlot, there were two women ordering wine flights, they seemed a bit unpleasant. This was confirmed after they left and the next couple who had been patiently waiting for 20 minutes to place their order, said "they were a bit high maintenance" and just said to the woman behind the counter, just breath. They ended up getting their wine flight free, as did we all we needed to pay for was the bottle of wine. It pays to be nice and have manners.
After the winery we then followed the lower portion of the High Road to Taos, back to Santa Fe. Along the way we wanted to stop at Picuris Pueblo, the smallest pueblo in New Mexico, with only 300 members. It was unfortunately closed as are most all of the pueblos due to Covid. This one even had a temperature check station for the members that were coming back
in to the pueblo after being somewhere else.
The next stop along the way was San José de Gracia Church in Las Trampas. The village was settled in 1751 and the church is an example of New Mexican village church architecture. It has thick adobe walls, which the villagers repair and strengthen each year.
Next was Truchas, we almost missed the Church here as it is hidden just off the road. The church is called Nuestra Senora del Rosario d las Truchas Church (or the Church of the Holy Rosary.)
The final stop was unscheduled and required us to get off the main road and take the rest of the lower portion of the High Road to Taos. It was worth getting off the beaten path, which is actually pretty well traveled. Every year during Holy Week over 50,000 pilgrims walk to the Santuario De Chimayo. I don't know where they are walking from, but it is out in the middle of nowhere. It is open year-round and was the only church we got to go in. Unfortunately, they do not allow any photography, which is too bad since the inside was quite beautiful.
It was
sunset as we drove back into Santa Fe. Now in the room blogging and relaxing, praying that dinner tonight is better than last.
Just back from dinner, which was fantastic. Before I move on to dinner, I just remembered another thing about the cooking class. While we were eating our lunch, they had an offering of various New Mexico wines and beers (for a charge) or complimentary ice tea, one of which was a prickly pear (cactus) ice tea, it was really good.
Now for dinner at Market Steer inside the St. Francis Hotel. Yes, it is primarily a steak house but they do have other options. We started with Martinis, very good, not as good as La Fonda, but still refreshing. For an appetizer we ordered something we would not normally order, but we saw them on another table and had to have them. Branding Iron Onion Rings. Stacked high on yes part of a branding iron. They were the best onion rings ever, the only thing close are the onion rings at Ringside steakhouse in Portland, Oregon.
Next, we split a knife and fort Caesar. We seem to be on a role with Caesar's this
trip as it was very good, possibly top 5. We are going to start keeping a list of best Caesars or we are going to forget.
We had a very nice St. Julien Bordeaux, which we had decanted and let stand to not only open up but to warm up.
A word about the cooking method on their steaks. The broil them in a 900-degree oven, the char on the steaks is perfect and yet they still managed to cook them a precise medium rare. The steaks do not come with any sides, so you need to order from their extensive list, we went with the green chile risotto. It was cooked nicely just too much salt.
With the steak we had the sauce flight consisting of every sauce they have: Bearnaise, truffle butter, pepper corn demi, horseradish caramel, smoked blue cheese butter, roasted fresno chimichurri, caramelized onion demi, and house made steak sauce. The top three were: Chimichurri, caramelized onion demi and finally the smoked blue cheese butter. Yes, the bearnaise, finished out of the money, not enough red wine vinegar or shallots. The truffle butter was our least favorite, truffles just were way to over
powering.
The entire meal was very good start to finish, plus we were sat at a great table by the fireplace, so no chills down our back. The service was attentive and very informative. They even gave us some NYE suggestions, since we really didn't want to go where we had already booked as they were owned by the same people that one SantaCafe.
We ended with a Bourbon pecan bread budding, more traditional style than what we had at lunch. Served on a bed of cream anglaise and a side of caramel sauce. Very tasty, but the one at the cooking school was better.
That wraps day 6 in Santa Fe. Tomorrow is a lighter day and totally in Santa Fe.
---
Advertisement


Tot: 0.032s; Tpl: 0.019s; cc: 7; qc: 23; dbt: 0.0059s; 1; m:saturn w:www (104.131.125.221); sld: 1;
; mem: 1.2mb