Advertisement


Published: December 28th 2021
---
Our first day in Hawaii was a resort day. I had worried a bit about how the kids would do with jet lag and figured a day to relax and nap wouldn't be a bad thing. Honestly, the laid-back day at our Outrigger Kona resort worked out great!
Yesterday, we arrived at the airport at 7:15am Central time (3:15am Hawaii time). At our layover in Denver, we learned that United stopped doing the Hawaii pre-clear in the airport (that's where they check your vaccination documents and give you a bracelet so that you don't have to stand in the long clear line in Hawaii). So, when we landed in Hawaii at 4:15pm (8:15pm Central), we had to wait to be cleared. After that, we caught our shuttle to the car rental place and waited for our car. By the time we got to our hotel to get checked in, it was 6:15pm Hawaiian time… 15 hours of traveling! We were tired, and it was dark out. Nothing appeared to be open nearby, so we grabbed some food from the supermarket, ate in our room, and promptly fell asleep.
It was a long day, but all that travel already seems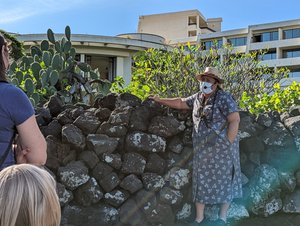 Free Cultural Walking Tour at Outrigger Kona Resort
---
Our tour guide, Rolinda, is standing in front of the kitchen building. She explained that the people had cement but chose not to use it during construction. By not using cement, they could reuse the stone if the wall was ever destroyed. They could also change the size of the kitchen when needed.
worth it. At 4am, the kids were up and wide awake. We chilled out in our room until breakfast opened at 6am. Then we headed downstairs to the open-air restaurant for breakfast. Now, I've never been to Hawaii before, and one thing that has stood out to me is how everything is open-air. For example, the gates at the airport were all open-air gates. At the hotel, there are no doors to get into the lobby. It's all open air. Some parts of the hotel have some walls or a roof/shelter, but, so far, the only enclosed place is our room and the sundries shop downstairs! I would enjoy this any time, but it is especially great while there is still a pandemic going on. It's nice to have so much ventilation. The restaurant has a ceiling and one wall. The rest is open. So, we felt comfortable eating in the open-air restaurant for breakfast. Everything was impressive but the prices. I can't bring myself to share how much we spent on breakfast. Our plan is to pick up some cereal at the grocery store for the next few mornings!
Our resort offers a number of free activities, and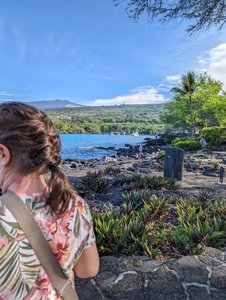 Bell Rock
---
The bell rock is in the background. It used to lay on its side, but people would use it as a picnic table. To preserve it, it's now standing up on one end. Rolinda told us it no long rings when struck.
I signed us up for a 9am walking tour and a 2pm lei making class. After breakfast, we explored the resort a bit and then joined the walking tour. Our tour guide was Rolinda, a former history teacher. She was excited to share the history of this part of the Big Island. She shared a lot of history specific to our resort area. Apparently, a lot of places with cultural significance were destroyed when golf courses and condos started to go up on the island. However, the first owners of the current Outrigger resort worked to preserve the sites located in the area. The native people who had lived here had a few buildings: a kitchen, a men's sleeping house, a women's sleeping house, a menstruation house, a procreation house, a fish temple, and a storage area for the canoes. Today, the bases of a sleeping house, the kitchen, the fish temple, and the canoe area remain. She also talked about some changes that occurred when American and Mexican cowboys came to this part of Hawaii. They brought cattle, which eventually changed the diet of the people here. The people had been pescatarians. Also, due to the dry conditions on
this side of the island, the cowboys brought prickly pear cactus. Between waterings, they could remove the needles from the prickly pear cactus and mash everything else up to feed to the cattle to keep them hydrated. There is a 100 year old pricky pear cactus in the walls of the old kitchen. She also showed us a bell stone. She said that every tribe used conch shells to communicate over distances, but this one also used a bell stone. She said they would ring it, and use a code like Morse code to communicate with their people if someone noteworthy was arriving by boat, or if they were under attack. Honestly, there were a lot of interesting things she taught us. I can't share them all, but there is one more that's memorable to me. There are lava slides all over the island, and, apparently, there used to be a huge one. People of significance would have competitions to see who could sled down these old lava slides the fastest. She said they'd shoot down these lava slides and coast down into the bay! That sounds like a lot of fun…. dangerous, but fun!
After the tour, the
kids were ready to swim. There are two pools here. One is 21+. It's open air but partially surrounded by hotel rooms. The other is completely outside and has a view of the Pacific Ocean. It also has a zero entry with sand on one side, and a big water slide on the other. The kids spent HOURS swimming and going down the water slide. Andrew's parents had gotten him an underwater GoPro for Christmas, so the kids made all sorts of videos going down the slide. We also practiced using our new snorkels, and I was really surprised how quickly the kids got the hang of them.
I picked up lunch at the poolside bar. Lunch was a lot cheaper than breakfast, mostly because we all split a meal. Andrew and I split a veggie wrap, and the kids split some chicken tenders. It was a good amount of food, and it made the bill much more palatable, so I think we'll continue splitting our meals while we're here.
At 1:15, we decided to head back to the room to get cleaned up before the lei making class. Oliver decided he wasn't up for the class, so
the guys stayed behind while I took Jo. The class was in the open-air cafe where we'd had breakfast. I thought we would be tying flowers with string or something. Wow, was I mistaken! We used leaves and twisted them into rope. It was a little difficult to get the hang of at first, but I think I ended up doing a pretty good job. I felt a little proud of myself, anyway! Joanna struggled with hers, so we used some teamwork where she held the top of the lei for me while I twisted and rotated and twisted and rotated. When it was done, Joanna opened some of the leaf "beads" I'd made and popped in a flower. I thought the end result was so pretty! She told us that the leaf part of our lei would last for months if treated well (keep them in a fridge with a moist towel). She said the flowers only last a day or two but can be replaced. While we're staying at the resort, she said we are welcome to pick these flowers to replace them in our leis.
The lei-making took an hour. Afterwards, we rested and cooled off
in our room until our luau. There are many luaus on the island, but I decided to go with the "Feast and Fire" luau at our resort. When we stay at a hotel or resort, I like to experience what they have to offer. This was our first luau ever, so we have nothing to compare it to, but we enjoyed it. At the start, as you come in, you can do bamboo stamping and make flower bracelets. There was music with dinner and a great show with music and dancing. The only downside was the vegetarian meal. The kids, who eat meat, got a plate with fish and pork and steak. Vegetarians got some roasted vegetables. It's not that the vegetables were bad, but it didn't feel like it was worth the price tag. I'm glad we went, but I don't know if the value was there for us to go again.
In all, we've had a wonderful first day in Hawaii. All of us are loving our vacation so far, and the kids have already asked when we can go back!
Additional photos from our resort day are attached below!
---
Advertisement


Tot: 0.038s; Tpl: 0.022s; cc: 8; qc: 27; dbt: 0.0087s; 1; m:saturn w:www (104.131.125.221); sld: 1;
; mem: 1.2mb