[ad_1]

Advertisement


Published: December 21st 2021
---
Today was a travel day so this will be a fairly short entry. Slept in until in until about 6:30 and took our time packing and getting ready to leave. Went downstairs to the breakfast room, nothing to report there. We were on the road by 10:30. The route was 285 through Roswell until in intersected with I-40 then right to Albuquerque.
We stopped for lunch in Roswell, yes that Roswell home of the UFO festival and aliens. The only alien we saw was one with a poncho outside of a Mexican Restaurant. We had lunch at Martin's Capitol Café. The best meal since Cloudcroft. After two days of just barely tolerable food it was finally nice to have actual decent Mexican (not New Mexican). It was a busy place and was a pretty quick lunch.
The salsa served with the chips was very good just the right bite to it. I had a stuffed sopapilla with rice, sour cream and guacamole. The sopapilla was stuffed with chicken, beans and cheese, then smothered in green chili sauce. Jerry had a chicken enchilada and taco combo with chili rellenos, rice and beans, also with green sauce. They were both very
good, but then there really was nowhere to go but up after the last two nights.
After lunch it was a three-hour drive to Albuquerque. We found the hotel quite easily, of course with navigation help form google maps. We are checked in; Tarragon is exploring the very large room and has already had his dinner. It is approaching wine-thirty so will be signing off soon. Dinner is in the hotel tonight with some of Jerry's relatives. We are here for three nights, so kitty will get a good chance to relax, he already loves the window sill.
Dinner was in the hotel at Mas Tapas y Vino, a Spanish tapas style restaurant. Jerry's aunt, uncle and cousin met us for dinner. We had a nice high top directly in front of the kitchen. Jerry had already picked out what we would be eating so there would not be any time wasted looking at the menu and everyone could just visit. We started with a bottle of Gruet (NM sparkling) and 5 tapas that arrived over the course of an hour. The first to arrive was the Bacalitos (cod fritters) or should I say fritter. It was one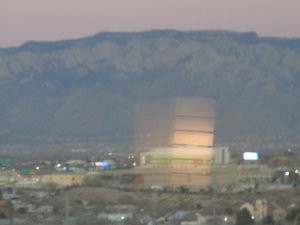 Sandia Peak
---
View from our room
big piece of cod battered and friend crispy served with a nice romesco sauce. The next two were Patatas Bravas and Crispy Brussel Sprouts. The Patatas Bravas were not the traditional method we are used to but, fried potatoes with a garlic paprika aioli sauce, good but the traditional method when smothered in a spicy paprika sauce is better. The Brussel Sprouts were the best ever, perfectly crispy and a chunky version of romesco.
Before I go into the last two tapa, a brief comment on style of cooking here. First, the executive chef is a former contestant on Hell's Kitchen, he didn't win but he is an excellent chef with some very creative ideas. Second, while the restaurant is Spanish in theme, there is nothing traditional about the cooking style. All of the standard dishes are present but all are (some would say elevated) prepared in a very trendy style and with a 20 something twist. I am not saying it was bad, because everything was incredibly good, but Traditional Tapa really does not need to be updated or made in a trendy "LA" manner.
A perfect example of what I am talking about is the pan
con tomate. The traditional method is a crispy piece of bread spread with a light mixture of tomatoes, garlic and olive oil. The presentation here (again it was very good) was toasted bread covered with what can only be described as a tomato jam. Garlic was not present nor was any paprika (to me key ingredients in the dish.) The last tapa was the very traditional Gambas al Ajillo con Chorizo (Shrimp in a garlic sauce with Chorizo.) This dish was totally done in the traditional fashion, as it should be, there is simply no reason to change anything about shrimp and crispy chorizo in a wonderful garlic sauce.
The conversation during dinner was lively and entertaining, learned a bit about the balloon festival held here every year from Jerry's uncle TJ. The conversation and food were aided by two bottles of a fairly decent Spanish Rioja.
My contribution to the ordering process was the choosing of two paellas, one vegetable the other meat. First question I asked was how long the cooking time was, if you know anything about paella is just cannot be cooked in less than 45 minutes (if you want it done right), they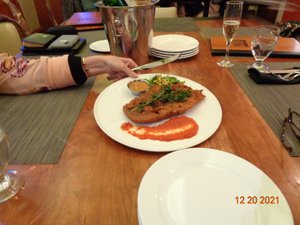 Bacalitos
---
Co-Dish of the Day
cooked it right, it even had the crispy crunchy gold of the socarrat on the bottom. The meat (chorizo, chicken and shrimp) was the more favorable the two. Again, the vegetable paella they just went to far and did a bit of fusion, there is zero need for tempura vegetables on top of a paella. When prepared this none of the vegetable flavor blends into the rice, not to mention if I would not have told them to take it out, they would have put kale in it. Kale has no place on a plate let alone in paella.
The evening was very enjoyable and we were the last to leave the restaurant. Everyone came up to our room to visit a bit more and of course to met Tarragon, who normally hides when around a group but this evening he held court, soaking up all the attention he could get.
Tonight's meal made up for everything horrible in Carlsbad. The dish of the day is really difficult to pick as each dish was unique and good in its own way. I rarely have a tie in this category, but tonight is the exception, the two stand out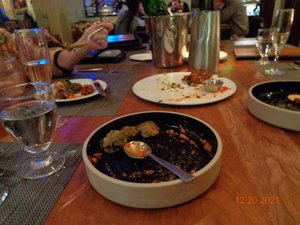 Crispy Brussel Spourts
---
Co-Dish of the Day
dishes were the Bacalaitos and the Crispy Brussel Sprouts.
---
Advertisement


Tot: 0.035s; Tpl: 0.017s; cc: 12; qc: 27; dbt: 0.0054s; 1; m:saturn w:www (104.131.125.221); sld: 1;
; mem: 1.3mb
[ad_2]

Source link