[ad_1]

Advertisement


Published: December 15th 2021
---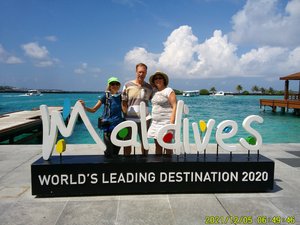 Janet, John and Beth
---
At the Male' airport
We had a bit of a scare as we tried to fly to the Maldives. When we got to the airport, we found out that there is a difference between the COVID Antigen test and the COVID PCR test and we had gotten the wrong one. So first we went to a place in the airport that offered both and got the right one but it would take 24 hours to get the results back. Since Lyon was such a small airport, there was no Lufthansa Customer Service so we decided to take our flight to Frankfurt. They let us take the Lyon to Frankfurt leg as long as our bags were checked to Frankfurt only so we boarded the plane, disappointed we would not be going to Maldives today and wondering how long it would take us to get another flight.
As soon as we got to Frankfurt, we got in line for customer service. The agent there read the guidance differently from the agent in Lyon. She said as long as we were fully vaccinated, we were good to go. Thank goodness we took our planned flight to Frankfurt so we were there to get our flight to
Maldive Islands.
After picking up our bags and re-checking them, John and I went to the Business Class lounge and Janet hung out at the gate. About an hour later, we boarded the plane. This time the business class was a 2-2-2 configuration with less privacy but we still could lie flat. Three-course dinner followed by about 7 hours of real sleep then breakfast. When we landed, we found our tour point of contact and they took us to the boat transfer to SAii (pronounced sigh) Lagoon. As our boat arrived, there were several staff standing on the dock waving to us.
The room was very nice. It had a king size bed for John and I and a single bed for Janet. The bathroom was large and had a nice shower. The landscaping was very lovely ranging from local a very nice vegetable garden to local flowers and decorative edging plants.
That day and the next one was spent sleeping in the sun, snorkeling and drinking mai tai's. Janet and I got complementary tattoos. Dinner the first night was on the beach at a restaurant described as Italian-Thai fusion; an unusual combination.
On Day 3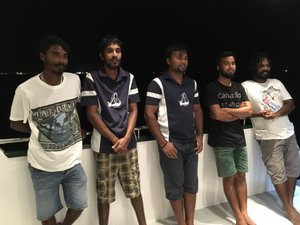 Dhoni Crew
---
Capt George on the right and the rest of the crew.
in the Maldives, we joined our G Adventures tour on a ship named Seafarer. The Chief Experience Officer (CEO, similar to a cruise director) is a man named Suja. We have a captain named George and an assistant captain named Nooman (pronounced newman). There is also a cook, waiter, and cabin boy (their description, not mine).
There are three levels for the passenger portion of the boat. The top deck has about 15 loungers and some sail shades. The middle decks have the anchors in the bow, then a seating area with comfortable chairs that are difficult to get into and out of. Then glass windows enclose a living room area, a kitchen, and the stairs to the guest room. Finally on the outdoor stern is the dining table and the stairs leading down to the water platform. On the bottom deck is six guest rooms, each one sleeps three people. Only four of them are occupied on this trip. During the time we were motoring or just hanging, most of us spent the time on the top deck in the shade.
Our first meal was lunch and it was typical of our meals. We eat family style.
The table is set for seven but Suja rarely joins us. There are two main dishes, one of which is pasta or rice, two hot veg, one for two cold salads, and fruit for dessert.
On day 2 of the cruise, our first stop was a bay to see dolphins. After about 30 minutes we spotted them and motored to them. They soon dove down to get away from us. That cycle repeated twice more and so we motored away and left them alone.
Then we stopped at "supposed to be Turtles" reef. We did a morning and an afternoon snorkel but saw no turtles. We did, however, see a white ray on the sand and a black tipped shark. Also, Suja and George could easily free dive down 30 feet or more and George would lie on his back and blow air rings in the water like people with cigarettes will blow smoke rings in the air.
After dinner the crew used a net to catch hundreds of 2" long "bait fish" then they deep fried then whole. They were good except they were too spicy for our tastes. Later we played five rounds of Uno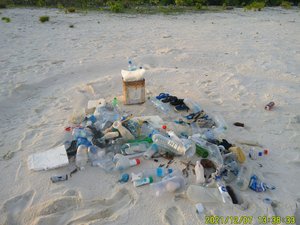 Trash
---
10% of the trash we saw on a one-acre island
and I won all five. And, no, I did not cheat.
After everyone else went to bed, I sat on the deck writing this journal. It was very relaxing to hear the waves lapping against the boat and the fish jumping in the dark.
The next day was very much like previous with a few exceptions. In the afternoon we snorkeled near a small (one acre) uninhabited island. After the snorkel, we motored over to it in the dinghy. The sad thing about the island was the quantity of rubbish, most of which had been washed ashore. We spent a good 45 minutes picking up trash and still got only about 10% of it.
During dinner, the small bait fish were again jumping and again there was a larger fish chasing them. So, George threw a line with four hooks on it and literally within seconds had caught two fish. Within 15 minutes, they had caught 32 fish. We had three of the fish for dinner the next night and the rest we frozen; I have no idea what the planned to do with them. Later that night while we were looking at the stars, Suja told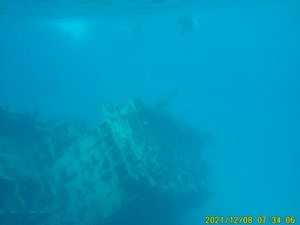 Shipwreck
---
Note the bicycle
us there was a dolphin off the stern. We hurried back and saw two dolphins and a ray all feeding on the small fish attracted by the light.
That night it unexpectedly, it started raining about 11pm and rained until about 10am the next morning. We even heard thunder and saw lightening. The morning snorkel was at a modern (9 year old) shipwreck. It had been a Maldivian fishing boat and had sunk in about 20 feet of water. The stern rested on the bottom and the bow was above the surface. There was a bicycle attached to the roof of the stern. The afternoon snorkel produced a lion fish (which we did not see) and a porcupine fish which we did see. We also swam through schools of fish ranging from tiny red ones to larger black ones and, most notably, yellow, white and black angel fish.
The next day was a great day! It started out with a snorkel with Nurse Sharks. We were near a resort that feeds them so they gather there. Nurse sharks, also known as Sleepy Sharks, grow up to 3 meters (9 feet) long. At one point there were 17 swimming
around our boat–so we jumped in. They came close enough to touch and the photos are great and we were never in danger.
After tea, we went ashore to the inhabited island of Fulidhoo. There are three types of islands around the Maldives. Inhabited islands have Maldivians living on it, uninhabited islands have no one living on them and tourist islands are where the resorts are.
Fulidhoo is between inhabited and tourist. About 600 locals live there but there are several small hotels where tourists who are doing the "off the beaten track thing" can stay. There are a couple of restaurants and a few shops. We found a tourist shop and bought a couple of sarongs, and a shotglass with the Maldives flag on it. That last one is ironic since Maldives is officially a dry country.
The whole island is probably ¼ mile long and ½ mile wide. The only motorized vehicles are one motorcycle with a small pick-up like bed on the back and boats. I saw the boat schedule and there are two trips per day to the nearby bigger island and there are six trips per day from that island to Male'.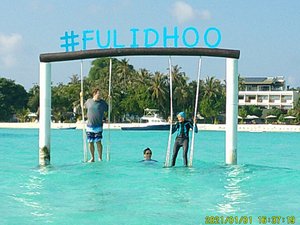 Fulidhoo
---
Fulidhoo is the island where we saw the drum band
Most of the women were wearing burkhas and hijabs. I did see one women in a full black burkha with only her eyes showing and I also saw one local women in jeans and a t-shirt but most were somewhere in between.
That evening came the best part of the trip. At 9pm, we went ashore to a concert of drumming but that does not fully describe it. Most songs had one man (it was all men) singing the lead and the other men singing a response. Some of the men are beating drums and others are dancing very high energy dances. Some of the dances reminded me of the hula and others of high school dances. But the best were just very high energy, fancy footwork. We had a fantastic time dancing and watching and dancing some more. Our CEO, Suja, joined in and proved a fantastic dancer.
The last day of the cruise, we had our last snorkel then headed for Male'. We went out into the open ocean and it was great fun. The waves were big (to us land lubbers) and most of us were on the roof enjoying the roller coaster.
When we got to Male', the six of us followed Suja like chicks following a mother duck through town to the hospital where we all got Covid tests. (We all tested Negative.) Then they motored to the middle of the Atoll and dropped anchor and we just hung out, packed, finished our wine, tipped the crew and ate dinner. Then next morning we were at the airport at 9am for our next resort.
---
Advertisement


Tot: 0.041s; Tpl: 0.018s; cc: 10; qc: 29; dbt: 0.007s; 1; m:saturn w:www (104.131.125.221); sld: 1;
; mem: 1.3mb
[ad_2]

Source link