Advertisement


Published: December 28th 2021
---
Every trip we hit that point were sleep becomes more important than breakfast. Today was that day. Just needed the extra 45 minutes of lying-in bed with Tarragon. It also turned out to be a good thing once we got closer to lunch.
We started our date at the Georgia O'Keefe Museum. We had allotted 2 hours for this, but really only needed one. It was smaller than we anticipated. We were however very fortunate to be planers because it was timed entry and you needed to book in advance, which we of course did. The line of walk ins was quite long and only about 20 of them managed to gain entrance, the museum was sold out for the rest of the day.
The museum was very interesting basically spanned here entire career from New York to New Mexico.
After the museum it was a bit of shopping for gifts for a few people, so we headed for a couple of Christmas shops, we hit the bonanza on the first shop and found everything we wanted, plus an ornament for us. We were going to hit some pottery shops but the place we were going to have
lunch already had a line so we thought we should get our name on the list. While we were in line everyone was being told their wait time was over an hour, unless you wanted to sit outside (to cold way to cold). When we got to the front and gave them our name it was only a 15-minute wait. The advantage of only being two people instead of a family of 5 or more.
We did have to switch tables as the first one was really close to the door that kept opening and closing. Today was much colder than any other and the wind picked up so made it feel even colder.
Lunch was at The Shed, which is clearly the place to have lunch as it was packed. It is just off the cathedral square. My tip is getting there at 11 to get your name on the list if you are a party over 4, otherwise you will probably luck out and have a much shorter wait, but if you are going for lunch, I really would not show up much later than 11:30.
We finally found green chile stew and posole. We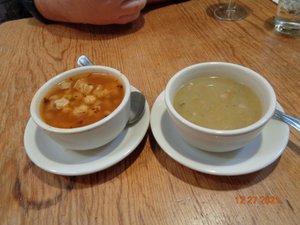 Posole on the Left, Green Chile Stew on the Right
---
Dish of the Day on the Right
order a cup of each so we could both have some of both. The green chile stew was far better than the posole and nice and spicy. The posole was good, just lacked some thickness and needed more heat. I had a couple of margaritas; it was a non-driving day so let the vacation really begin. They were tasting, but nothing compared to the ones at Geronimo's on Christmas Night.
Jerry ordered the chicken enchiladas (if you are seeing a pattern in his ordering, you guessed correctly he really likes enchiladas.) with Christmas sauce, which means both red and green chile. I had the carne adovada plate. It was nicely seasoned but the pork could have braised for another hour to make it a bit more tender.
We had our first conversation with other travelers at lunch, a retired coupled from San Francisco, who just happened to be at Geronimo's the same time we were. Anyway, it was a good conversation, she was a retired chef who opened a restaurant in San Francisco with Wolfgang Puck. We talked about travel and food, etc. She did ask me if we were retired, I guess I actually look 60 now.
After lunch we did the three main churches in Santa Fe; The St. Francis Basilica Cathedral, Loretto Chapel and San Miguel Mission Church, yes, they are all catholic churches, it was colonized by the Spanish you think they are going to be Methodist churches?
The first, St. Francis Basilica, is the largest and is actually the St. Francis of Assisi Basilica founded by the Franciscan order. St. Francis is also the patron saint of Santa Fe, not to mention animals of course. It was closed as it was Monday, but we did get some nice shots of the outside and a picture of the first Native American to make it to sainthood.
Next up was the Loretto Chapel, originally the chapel where the nuns worshiped. The interesting thing here is the spiral staircase leading to the choir loft. When the church was first built there was no way to access the choir loft, legend has it the nuns prayed an on like day 6 a carpenter showed up and built them a spiral stair case. There is even a movie about this with Barbara Hersey and Diane Ladd.
The final church was the San Miguel Mission,
the oldest church in the United States. It is made of adobe, which they have to constantly repair. During the Pueblo Revolt to drive the Spanish out the shaman ordered that anything representing Catholicism be destroyed, the church roof was burned but the structure survived.
We then spent a bit of time shopping for some pottery, one piece is a possibility, and Jerry desperately needed wool socks as the temperature is really dropping. We also picked up our dry cleaning, which was way overpriced. The afternoon ended with a bit of blogging and Tarragon getting another walk outside.
At 4:00 we headed to our Gruet wine tasting. It is located in the St. Francis hotel, which is the oldest hotel in Santa Fe. They had outside seating, but they ended up closing that down because the wind picked up and it was just too cold and the wind was blowing over the heaters.
We had a nice table inside and each did a 4-tasting flight Jerry focusing on red and I a mix of white, red and sparkling. The sparkling is clearly what they need to focus on, the still wines were just ok, but the Blanc
De Noir sparkling is outstanding.
Now back in the room catching up on the blog and relaxing before we head out to dinner.
While I have a moment a bit of history on our hotel. It is a 300 hacienda, originally built by Senor Ortiz, who walked with his family from Mexico City. He built this hacienda and became a major land owner in the area. I don't think the pool is original to the building, more likely it was a court yard.
So, we are back from dinner and it was another disappointment. Fiver nights and 2 of the meals have been outstanding, 1 a disaster and 2 just mediocre at best. But before I go into dinner, it is time for a bit of a rant, and it isn't about people not wearing mask, because they are amazingly good about it here.
This rant has been revised from the one I wrote last night, I toned it down) The rant is about certain people who have an over inflated sense of importance and believe they are entitled to things simply because the exist. It is not confined to any age group because these types
of people exist in every ager group. I am tired of going to any place that is suppose to have class and it's filled with people wearing stocking caps at the dinner table, t-shirts and I mean your basic jockey t-shirt, Kardashian wannabees (and when did the Kardashians ever become something to idolize) wearing clothes that are two tight and to revealing, where is the respect for yourselves. No one seems to have any manners, etiquette is clearly dead, and its all about me me me. A quick example, I was on my way to the restroom (which was disgustingly filthy, but that is another rant) and three entitled persons (age not important) were sitting on a bench with their legs all the way out in the isle so you had to step over them. There was zero attempt to move their feet, and in fact the looks were like what are you doing, can't you see I occupy this space. It would appear that gone are the days of real class, manners and dressing for the occasion.
Now that, that is out of my system, on to dinner. I am not posting any of the pictures, because the
food is simply not deserving. It was another meal of cold food; I mean really who serves corn bread cold? The concepts were all good, but they just tried to hard and ended up failing. Salt was king and the least flavorful Caesar ever was had. So far, we have eaten at the following:
Luminaria in the Loretto, horrible don't ever go
La Plazuela in the La Fonda, worth going to.
Geronimo's, an absolute must visit.
La Casa Cena, do not bother.
SantaCafe, trendy you would think you were in LA and the food is not worth the price.
These have all been dinner places, lunches have been great. SantaCafe was where we ate to night and it was way to pretentious for its own good. In fact, it owns the restaurant we have New Year's Eve reservations, so we are trying to find any place else to eat that night.
Needless to say, the dish of the day did not come from SantaCafe, I can't even blog about what we ate it was so uninspiring. The dish of the day is the Green Chile Stew at The Shed.
It would seem
that Santa Fe has become as mediocre as New York. Everyone rests on their reputation and do not seem to care about maintaining what made them the establishments they are supposed to be. Yes, I am sure that Covid has a great deal to do with some of the issues, but if you can't do it right, then just don't do it.
---
Advertisement


Tot: 0.046s; Tpl: 0.02s; cc: 7; qc: 23; dbt: 0.0076s; 1; m:saturn w:www (104.131.125.221); sld: 1;
; mem: 1.2mb