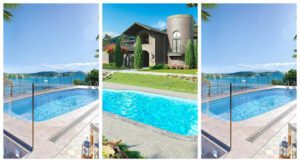 Pool disasters offer great material for popular home video programmes. In reality, the "above ground pool collapse film" is a separate sub-genre. You may have seen it. When some unlucky guy pulls a stunt, the walls of his pool crumble, and he is swept across the backyard in a shower of 5,000 gallons of water, which is enormous and humorously biblical. Many of these pools have unsolvable issues due to improper installation or lack of upkeep. If these above-ground catastrophes are so widespread, does this mean that inground fiberglass pool constructions have also gone wrong?
While most errors are caused by incompetent or unethical pool installers, who take shortcuts or ignore the principles, even the most expert pool installers may make blunders. The best installers are those that learn from their mistakes and repair them.
We don't promote DIY pool installation, but we recommend that pool purchasers become as knowledgeable as possible so that their pool installation goes well. Here are six tips to guarantee your fiberglass pool installation does not end in disaster: 
Prepare yourself.
Do your homework and ensure your fiberglass pool dealer has a strong track record with previous installs. Please make sure you and your dealer are on the same page regarding the fiberglass pool installation procedure, budgeted expenses, timing, and resources. Then, to get things started, schedule a pre-construction consultation with your dealer.
Use The Right Tools.
Heavy equipment, underground electrical construction, utility relocation, and other factors are part of the fiberglass pool installation procedure. Unfortunately, too many mishaps occur when people try to make do with inadequate equipment. In the end, it is advised to hire an expert.
Depth Or Proper Placement.
This is a complex problem. Your fiberglass pool shell must be installed in the ground considering drainage, easements, home location, and soil type to avoid pools bursting out of the ground or cracking. Hydrostatic pressure will be a concern for every dealer and pool owner, especially in low-lying locations, both during installation and during the pool's lifetime. Examine your yard with your dealer and inquire about how they avoid wall bulging.
Correct Material Selection.
Inquire with your dealer about the type of fill they use in and around the pool and why. For example, when you see a fiberglass pool that has moved or settled, the contractor may use sand instead of crushed stone as backfill. Also, make sure the dealer employs cutting-edge technology like the Backfill Eliminator.
Work With Concrete.
The concrete around your pool should blend in with the fiberglass so that it appears to have been created jointly. Isn't it straightforward? Not every concrete contractor knows or understands the coping and cantilevered design of pool decking. Working with a concrete contractor with expertise in laying concrete around a fiberglass pool can provide a tight, smooth concrete edge.
Get Work Covered By A Warranty.
One of the DIY pool installers' melancholy regrets is the lack of remedy when anything goes wrong. However, working with a bonded, experienced expert has two advantages: one, the work will be done the first time correctly, and second, if the job is not done the first time correctly, you may have the right to file a claim for repair work.
Final Words:
Good luck with the installation of your fiberglass pool. Remember the first rule: choose a reputable vendor or installation. If you do, you'll discover wonderful people, fantastic products, and a process you can trust. If you follow these steps, your fiberglass pool installation will go well.