Advertisement


Published: December 29th 2021
---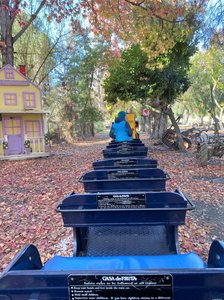 Casa de Choo Choo
---
Casa de Ftuta
Day1: To Paso Robles
We're still keeping things local as our toddler is yet to be vaccinated. This is helping me find gems in driving distance. This holiday season, we're headed to San Luis Obispo area for some animal fun!
We stopped by Casa de Fruta to chop up the 3-hr drive. It is this farm-stand-turned-institution that has Casa de everything from hotel to gas station. We've passed by it gazillion times but never occurred to us to even give it a try…until a vehicle-loving tot joined us. This is the second time for us and it turned out to be an amazing place; amazing for the 2-yr-old and not too painful for us. First of all, there are peacocks, ducks, and roosters roaming around. We didn't see them this time but there were tons of turtles in the pond in June. Second of all, this place is lined with antique tractors and farm equipment. Although not my speed, there are also Casa de choo choo train and double-decker merry-go-round. Last but not least this carnival has no entrance fee. Impressive since the pumpkin patches of this caliber are charging $10 just to enter these days. But Y's favorite
Casa de Choo Choo
---
Casa de Fruta
is the red caboose hands down! He'd been asking about the red train since June. But now that he's connected this to the red caboose from the Berenstain Bears book, this has gained some notches in his world. We went to check out the steam engine train on the other side of the parking lot but he wanted to come right back to the caboose. So much so that he ran, tripped on a slight ramp, and his cheek landed on the metal steps of the caboose! Scary. The trip is beginning with bruised cheek but so glad it didn't go beyond that.
The crowd was spotty and it was a good time to hop on the train. It was a long journey for $5 through fall-colored fallen leaves, mural buildings, rail crossing, and even a tunnel decked up with Christmas light. All this while the conductor gave a guided tour on the microphone. We had lunch picnic-style while peacocks and roosters roamed around. The time flew by. It was past noon. Time to head south.
Y napped through the 2-hr stretch to Paso Robles. We arrived at Capaldi Ranch shortly past 2 pm. Our home for the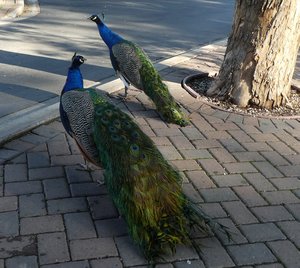 Free-range peacocks
---
Casa de Fruta
next two nights, aka trailer, was hard to see at first as it was tucked away behind the walls. It is super private and the deck had a grand view of the hills, wow! A friendly cat greeted us and stuck around during our stay. Initially, Y had a hard time figuring this new place out and surprisingly acted terrified of the cat. But after playing on a cart for a bit, Y jumped off of it when V decided to go see alpacas close. The flood gate was wide open. Y started feeding hay pieces and half of his body was inside the fence. "Do you want more? Eat this. Please eat this." Aww. When alpacas were full, Y moved on to the junkyard and had a ball. We had a full moon view from the deck and the longhorns had come up to the gate right in front of the parking.
Day 2: Elephant seals and the ranch
Capaldi Ranch RV was super stocked with amenities. It even had toys that Y was crazy about! For me, you can't beat the convenience of having the kitchen for a hot drink. We didn't get to see the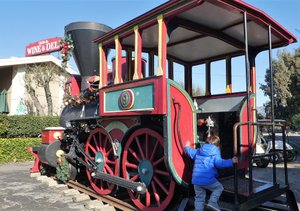 Steam engine
---
Casa de Fruta
sunrise in the thick fog but we went on for a morning stroll. So amazing to be able to say hi to the longhorns, alpacas, horse, pony, ducks, chickens, goats, sheep, and one big turkey. This turkey was hilarious! He was the only one out of the pen and followed us tippy-toe all around the pen with watchful eyes 😂
We grabbed breakfast back in the trailer and headed out shortly after 8 am. Destination: Piedras Blancas Friends of the Elephant Seal. It was a nice 45min ride up the hills that dropped into the coast. The view point parking lot was still just 5 cars deep. Seal-sighting started right at parking. The sight of the first elephant seal was shocking!! I mean these guys are ginormous, nothing like the seals at Fisherman's Wharf. The viewing deck extends south along the beach and there are so many more seals laying around. Amazing! Right off the bat, a bully guy boink boinked his way to the crowded area and chased them away…wow.
Y had so much pent-up energy that he started running, continued on Boucher Trail, almost all the way to the lighthouse. That makes it ~1.5 miles. The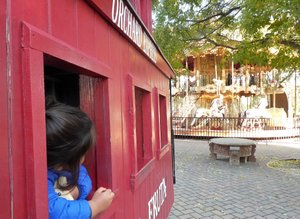 Red caboose & the carousel
---
Casa de Fruta
trail was gorgeous with many more close elephant seal sights and sounds. Unfortunately, the lighthouse was closed 😞. We put out a picnic blanket at the gate and had lunch. V ran back to get the car as another 1.5 miles for Y was sure going to be rough…I want to walk but I want to ride the pushcart but I want mommy to carry me…y'know the drill. Of course, V beat us to the car gate a few 100 yards from the picnic site.
We spent the afternoon back at the ranch. We were treated with all the animals out of their pens. The alpacas were glazing in a herd. They get weary when we came close to them. Y found the toy trucks in the sandbox next to the house. He was immersed in that while I had a cat on my lap. A baby goat came by to say hi too. Incredible to see all animals getting along including humans! I can't think of any other place like this!
Day 3: Monarch and the beach
Y barely ate anything and was ready to hit the sandbox. The sun had barely come up and it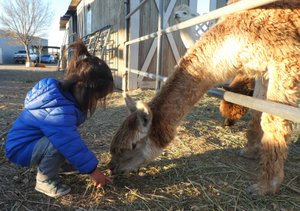 Feeding alpaca
---
Capaldi Ranch
was freaking cold in the 30s, brrr. I bundled up as V took over the packing duty. There were a few alpacas, ducks, and the turkey out. I can get used to waking up to the longhorns as the next-door neighbor and these guys roaming around 😊.
The lap cat from yesterday came around and Y befriended this guy. They followed each other through the cracks and ditches. Eventually, we said good buy to the animals and ended up at the antique machine at the ranch entrance. V picked us up there. It was bittersweet that Y didn't want to leave yet…
We left the ranch at 8:20 am and arrived at Pismo Beach Monarch Grove at 9:20 am via a potty stop. The grove was similar to the one in Pacific Grove but the trees may be taller. We saw a few butterflies flying but not the cluster. It's difficult until your eyes are calibrated. This is the third sanctuary of the season but Y never caught on to this activity. I guess if it breaks my neck to search for butterflies, it's even harder for the shorter tots. This grove is right next to the campsite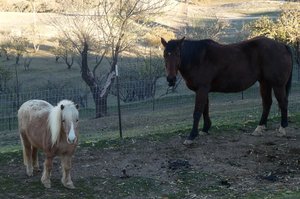 Horse & Pony
---
Capaldi Ranch
and the beach. I'll look into this campsite but the butterflies come only when it's cold… We ended up at the beach and Y was well-entertained there with sand and trees. It was a great lunch spot too.
We finally caught the butterfly clusters on the way out. It was already noon but we decided to sneak in a pie at Avila Village Barn. This place had more than pies. It had a Christmas tree lot, a produce/souvenir shop, and lots of farm animals! You can get a head of romaine lettuce for $3 to feed 10s of goats, horse, ostrich, alpaca, pony, and pigs. We don't endorse random feeding, though, as we couldn't imagine it being healthy or natural for the animals. There were literally 10 lettuce heads as I could see. Some goats were jumping on the fence when the kids came around while sitting next to the perfect lettuce leaves. Nope, no lettuce head for us. Still, Y felt inclined to feed the animals even with the tiniest pieces of lettuce that were left behind. "Do you want to eat more? Eat this?", he said. So sweet.
Y woke up from his nap to the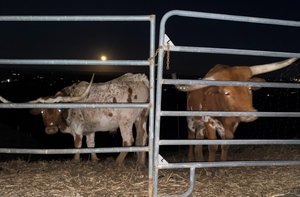 Longhorns & the full moon
---
Capaldi Ranch
view of Morro Rock Beach. We walked along the shore to T pier in search of sea otters. And there they were! So cool! We could see them come up here and there. After getting his snack at the pier, Y got a jolt of energy. He started dashing and going nuts in the sand! We didn't see ourselves containing him in the car to go dinner shopping so I stayed back with him while V went to the store. Y literally rolled around in the sand, sprayed sand on himself mimicking a seal, and just ran!
The sun had set and we were ready to check into a national Motel chain…except I got "I can't check you in." Excuse me? Apparently, the system is down and ain't nothin' the lady could do. She kept closing and opening the app…not looking good. I called the central number and they said the same. It's down nationwide 😱 Welp, let's just go eat and see. We were just gonna make sandwiches but now we need to find a place where we can picnic that's well-lit. Think think think. We tried the pier area in hopes to find something for the tourists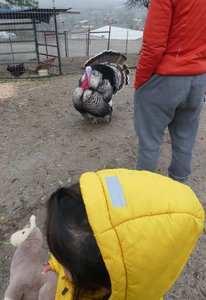 Turkey with the watchful eyes
---
Capaldi Ranch
🙏 Bingo. The seating area behind the crab shacks was for public use. A bit cold but Y could care less. He chowed down the sandwich and got his favorite tangerines. All good. We returned to the motel and the app was just coming up, yay.
Day 4: Sea otter bonanza!
Woke up, as usual, ~6 am but no hot drink this time. V attempted the lobby coffee only to get traumatized. We whipped out a plan on a whim to grab pancake breakfast in Atascadero then slowly make our way back up north. But Y had another plan. He asked to go to the park before getting into the car. It seemed like just an open field but he didn't miss the playground. Why not. After seeing Y enjoying the bleachers, it felt more right to hang out in Morro Bay this morning. We decided to go back to the sea otter pier, grab a coffee, and eat breakfast there. La Parisienne right across from the pier was perfect. I ran in to get us coffee but it was too cute not to let Y see it. We all went back in and picked up a slice
of quiche to share.
Back at the pier, things were happening! There were 6 otters right by the wharf, some with pups on their bellies, wow!! What we saw yesterday was nothing!! It was just incredible seeing them floating, turning, and grooming. After admiring them for some time, it was time for us to eat. There are actually random picnic tables along the waterfront that are labeled for public use. We enjoyed our coffee and Y devoured that quiche. Y decided to go on his bike and we were at Morro Rock Beach in no time. He even pushed it through the sandy beach.
When we made it to the parking lot on the other side, we realized that Mr. Alpaca was missing. No!!! Mr. A the stuffed animal was gifted to Y from our neighbor in preparation for this trip. Y absolutely adored it. The last memory was a lady commenting on it at the bakery. I might have remembered it from the breakfast but not certain. V took off to run back to the pier and backtrack while I hung out with Y at the beach. Unfortunately, Mr. A was not found 😞. It started to
rain and V went again to get the car. We gave it another try from the bakery to the beach. Nothing. Where are you, Mr. A~. It started to rain harder 😞. We went back to yesterday's dinner spot for lunch. Y napped on the way to Gilroy. We stopped by Gilroy library for some holiday crafts and snacks to gear up for the last stretch home.
There was one thing on my mind: Mr. A. Y started to ask for it. There were very few options to order online. The only clue was that it had Whole Foods tag. I finally got through the store that carried the brand!! Aaand they had just one more llama!! Thank you, thank you, thank you!!!
Apparently, the rain caused some of the roads we were on in SLO to flood and close for days. Escaped a few near-misses, phew. As we're not taking Y to the zoo to avoid normalizing captivity, it was a great getaway seeing so many free-range animals: alpaca, longhorn, goat, sheep, duck, chicken, turkey, cat, dog, peacock, monarch butterflies, elephant seal, and sea otter! Not too shabby!
---
Advertisement


Tot: 0.27s; Tpl: 0.019s; cc: 16; qc: 69; dbt: 0.0171s; 1; m:saturn w:www (104.131.125.221); sld: 1;
; mem: 1.5mb