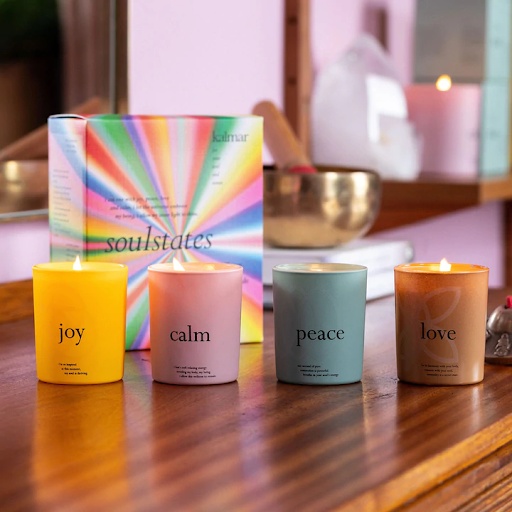 Celebrating another year of togetherness? Anniversary days are important as it celebrates a milestone of a relationship. It's a day when your love finally said "yes" and it ought to be made memorable. There are so many romantic ways to celebrate anniversaries, but purchasing a lovely gift for your ladylove still saves the spot on the top of millions of ideas. Anniversary gifts make the day extra memorable and joyous. It need not be worth thousands of dollars, but a little gesture of presenting a gift before you finally take her out for dinner will melt her heart and rekindle love and romance. We have put together a list of luxe Anniversary gifts to assist you in commemorating this joyous occasion.
List of luxury gift ideas for anniversary
Luxury candle gift set
First on the list is the luxury candle gift set. Scented candles are the newest form of self-care that people invest in for calmer minds and bodies. These candles are enriched with fragrances that have the potent power of reconnecting the body, mind, and soul through the power of senses. The exquisite blend of scents changes the whole energy of the room. So, you can use the gift set for your own benefit when you want to spend some intimate time with your partner. Make sure you check out the variety of blends before purchasing depending upon what you expect from your large scented candle.
Bath and body care products
The daily hygiene stuff can also be a great Anniversary gift for your bae. This care package can include bath and body care products enriched with mesmerizing scents. When choosing bath and body care products, you get multiple options like a combination of organic soaps, a creamy body cream in a fruity fragrance, and a chemical-free cleanser. Or you can choose a moisturizing kit with luxury body lotion and body creams. Such a gift set is perfect if your Anniversary is in the winter season. Gift sets can also be customized or you can purchase separate products from her favorite brand and then put it in a gift pack.
Pocket spa set
After bath and body care comes hair care because hair deserves a little attention too. Here is a gift idea that will be useful for both of you. We are talking about a pocket spa set. Now, that is new! We can't explain enough what a spa does for your mind and body. It's super relaxing and does wonder for your hair. If your wifey is always on the go, you can gift her a pocket spa set that comes in travel size, easy-to-carry packaging. It is a mini kit that contains all essentials needed for a spa session. You both can use it while you are off to your Anniversary celebration.
Set of fruity lip balms
Another essential self-care product that you can add to her purse is a set of fruity lip balms. Lip balms are love, that too in fruity flavors – yum! Get a set of her favorite fruit flavors so that she can always keep her lips hydrated.
All these gifts involve self-care, so your partner will definitely love all the ideas. Also, You can combine natural scented candles with other gift ideas on the list.