[ad_1]

Advertisement


Published: December 23rd 2021
---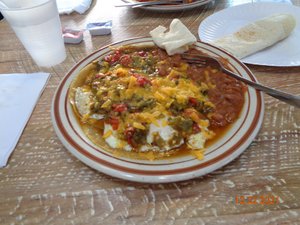 Huevos Rancheros
---
Number 2
Today started by meeting Jerry's aunt, uncle and cousin at The Frontier for breakfast. It is directly across from the University of New Mexico campus. It is very popular and has 5 separate dining rooms. You order at the counter and then wait for your number to be displayed on the board. The line was not bad when we got there, but it can be out the door at times.
Two things of note are: 1) the tortilla making machine. Someone is constantly standing at the machine putting the dough on the conveyor belt and at the other end a fresh made tortilla pops out; 2) they are known for their cinnamon rolls (so of course we ordered one.)
TJ, Karen and Gina had already ordered and eaten, since they got there 30 minutes earlier than us. Jerry and I both had Huevos Rancheros, only difference I had green he had red chili sauce. They were very good, but I would give the edge to Cecelia's.
After breakfast we headed up to the peak of Sandia Crest, 10,600 feet. The drive was about 45 minutes on a long and winding road. The drive was worth it as the
views were spectacular. It was a very nice day and for being that high it was not very cold, except for the wind which did make the new coats a must. We looked around took pictures and then headed back down.
Karen and Gina were heading back to Stillwater Oklahoma, so the next stop was lunch at Mary & Tito's. According to our guide book (2016 version) they were supposed to be famous for the green chile stew, it wasn't even on the menu. It was a pretty straight forward menu, Jerry had the chile rellenos plater with both red and green sauce, I had the carne adovada flautas with freshly made guacamole. Other dishes around the table were carne adovada chimichanga, and enchiladas.
That is pretty much the day so far. There is a slight dinner change, just decided it was easier to eat in the hotel at Mas Tapas y Vino (take advantage of the food credit) than have to get in a lyft to go somewhere else. Besides restaurants close very early around here, 8 pm and the hotel restaurant stays open until 9.
Jerry is down in the hotel library looking at pictures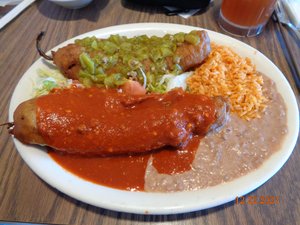 Chili Rellenos
---
Mary & Tito's
and visiting with his uncle, while I catch up on the blogging and unfortunately work e-mails. After Jerry's visit TJ came up to the room for a glass of wine before he headed home.
Dinner was a simple affair downstairs in the hotel restaurant. We had such a good time and great food the first night we changed plans to make life easier on us and opted out of a restaurant in Old Town for the convenience of the hotel. The food was good, but didn't seem to have that something extra it did the first night. I think the b string of chefs were on the line for a Wednesday night. We were both so tired, we couldn't even bring ourselves to have more than one class of Cava with dinner.
The food was good, but none of it was as described on the menu, each dish was missing what I would consider a key ingredient as described on the menu. The meal was as follows:
Tapas
Asparagus Calabacitas, roasted vegetables over a red chile sauce, what was left out here was that it was also to have green chile sauce.
Seared Diver Sea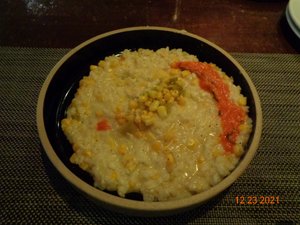 Green Chili Corn Risotto
---
Dish of the Day
Scallops, with crispy Jamon Serrano over lavender corn pudding. Missing the Champagne cream.
Salad
Iceberg (yes iceberg) wedge, traditional wedge with Tucumcari Cheddar instead of blue cheese and a garlic-herb vinaigrette instead of ranch. One of the better wedges I have had.
Entrée
Green Chile Corn Risotto, the dish of the day and the risotto was cooked perfectly, even Gordon Ramsey would be proud of the former contestant on Hell's Kitchen.
After dinner, it was back to the room finished off the glass of wine we were working on before we went down and then straight to bed.
Tomorrow we are off to Santa Fe where we will be for the next 9 nights.
---
Advertisement


Tot: 0.043s; Tpl: 0.017s; cc: 8; qc: 23; dbt: 0.0052s; 1; m:saturn w:www (104.131.125.221); sld: 1;
; mem: 1.2mb
[ad_2]

Source link