Advertisement


Published: December 30th 2021
---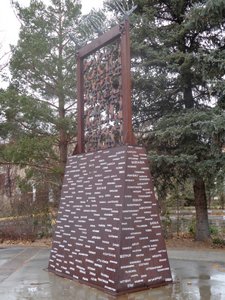 No Longer With Us
---
Native Peoples that are gone
We decided to take it easy this morning and leisurely got ready for the day. We skipped breakfast at the hotel and instead decided to have an earlier lunch. This turned out to be a good thing, because Café Pasquals is quite popular and our wait time was an hour. We used this time to do some shopping. Went to a great chile store next door and bought three different types of red chile. Then we walked around looking for pottery, no luck yet.
When our table was ready, we got a text and we headed to the restaurant. The wait now was an hour and a half, when we left it was up to 2 hours. It was well worth the wait. The place is very small and there was no personal space, almost sitting on top of each other. The large table in the middle was a total communal table, people sitting with people they didn't know. But again, the food is worth it. (It doesn't seem very Covid safe, we are getting tested when we get home).
Jerry had the best BLT ever, and I mean ever. So here we go with the description; Chile rubbed
bacon, roasted green chile strips, jack cheese, heirloom tomato, mayo, lettuce served on a toasted chile-cornbread. Jerry didn't even mind the mayo. A word about the chile-cornbread, it was actually like bread not what you think of cornbread. It was really incredible, big contender for dish of the day.
I stayed more on the breakfast side and had a Durango Omelette. Three organic eggs, diced far mani rosemary ham, jack cheese, scallions, guacamole, sautéed cremini mushrooms, sour cream and that was all in the inside. I choose both red and green chile sauce for the top. Both were really good, Jerry said the red was better, but I am just more partial to green. Instead of beans, or has browns it came with a side of oven roasted sweet potatoes, with just a hint of we think paprika.
When we finished, we dropped off our chile purchases back in the room and headed for the State Capital. The New Mexico State Capital building is full of New Mexican Art. It is was all very fine art not street vendors. The most interesting thing to me, was something we saw when we were there on Christmas Eve. At the
BLT
---
A tough Choice, but Dish of the Day
time we did not know the meaning, but now we do. The It was a sculpture that had all of the names of the Native peoples that no longer exist, this is why Tillamook was on the monument. It is a poignant reminder of just how badly the native people have been treated since the Spanish, French and British colonization began. Of course, the prize for mistreatment clearly goes to the US. After all we had the policy of Manifest Destiny, which was basically convert them or kill them.
After that we were off to the New Mexico Museum of Art. It was a good representation of Southwest Art. It was also very easy to navigate took just over an hour to go through. One of the more interesting exhibits was called "Poetic Justice" a series of paintings, sculptures and other installations representing the disparate treatment of black, brown, native, women, the list goes on, people. My favorite was entitled "The Dogg Express," a train where the cars had names of the various minority, mainly black, communities that have become more and more gentrified and how roads, trains, busses, highways further deepened the systemic racism in this country.
After that it was off to a kitchen shop to see if we could find cazuelas, no such luck. Finished the day with a cocktail at the hotel bar. They again are so overstaffed because of Covid, the service is a bit slow, but we expect that, clearly the entitled woman from Texas was not having it, as she stormed out when she was told she would have to wait as the bartender was serving other customers.
Tarragon got his evening walk in the very cold outside and now all of us are just chilling before dinner. Tarragon is being a watch cat at the moment as he is staring at the door because the people in adjacent rooms are very loud and he needs to know what they are up to.
Joseph's Culinary Pub
Just back from dinner, and it was a very pleasant surprise. The service was exceptional, the food was phenomenal. It was a very short walk from our hotel, which is good since it has taken a turn to the cold, even I had my scarf wrapped around my neck.
As we were waiting to be seated, the couple ahead of us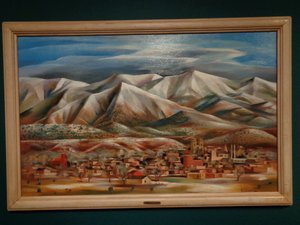 Snow in Santa Fe
---
New Mexico Museum of Art
recognized us from Santa Cafe, we exchanged notes and they concurred that it was a c+/b- experience. As they were leaving the woman came over to our table and said that their meal was exceptional and they would come back. At the point we had only had our appetizer, but already agreed that the evening was going to be a great culinary success.
Before I get into the meal, a few words about the restaurant. It is a bit off the beaten path, yet very popular. The staff is friendly and very well trained. Our server, Keira, was very knowledgeable about everything on the menu, including the wines. She made the comment while we were talking that she suspected we were foodies, I admitted that yes to some extent we are foodies, but I really am taking notes so I can remember things for my travel blog. That ended up being the best statement I could have made. Before we ordered we spent about 5 minutes talking about other places we had eaten on our thoughts on them, she was a bit surprised about SantaCafe (she use to work their) but other than that she pretty much agreed with
our assessment of each place.
Now on to the meal (which really made dish of the day difficult.) We started with our more traditional sparkling wine (it is only beer and wine here) we had a AT Roca Brut Rosat Reseva (Spain 2018) it was a Brut Rose Cava. It was very good dry and bubbly.
This would be only a two-course dinner, as the portions were decent size, especially our first course. The bread was very was good, nice warm rolls, with a chile butter (it could have been a bit more room temp). We have been searching for Green Chile Stew and Posole since the beginning of the trip, we had some a The Shed, but what we had tonight blew it out of the water.
Jerry had Abueula Nora's organic chicken posole verde, it was outstanding, just the right amount of kick to it and the chicken was tender and tasting. I had the Christmas style chile beef tenderloin stew (more a red chile then green chile stew) it was the best stew of any kind I have ever had, and when you added the red chile sauce on the side into it, well
Seate Navajo Women
---
R.C. Gorman
buckle up, the taste explosion may knock you off your ass.
The wine list was very good, one page, but filled with exceptional wines, including a Red Sancerre. I love Sancerre, it is my Friday night wine and 95% of Sancerre is made from a Sauvignon Blanc so it is a white wine. So, to find a red Sancerre is a great find, I think I may have seen it on one other wine list ever. (Aside, my favorite place to get Lobster Rolls is Ed Lobster House in Manhattan and they have a Rose Sancerre, by the way Shari they didn't close they just moved locations down the street a bit.)
Back to dinner. I knew what Jerry was going to have before we got there, although they did have other tempting choices, but I was correct, and he went with the Baked Rabbit Bolognese Lasagna. The sauce was almost as good as what we made in Bologna on our last trip to Italy.
Finally, I had the Lamb Burger, with green chile and sheep cheese. Cooked perfectly medium rare and served on a house made English muffin. I also could not resist the duck fat
fries. They were very good, but the ones in Portland Maine at Duck Fat, are still the best ever.
We didn't even look at the dessert menu, just no room. After the food, the highlight for me was getting to go in the kitchen not just to see the kitchen, which anyone that follows this blog knows I love kitchens, but I also got to meet the Chef/Owner Joseph himself. Something tells me this would not have happened but for the fact Keira new I did a travel blog, that and my little black book I carry whenever we eat out, does open doors sometimes.
It was a great dining experience equally as wonderful as Geronimo (food of course can't be compared as styles are worlds apart and both were fantastic)
This brings me to the dish of the day. This is really tough, the BLT at Pasqual's was outer worldly, the Chicken Posole Verde and Green Chile Stew were amazing and the Rabbit Lasagna just incredible. I am not sure I can even pick one as the dish of the day. But I have made the executive decision that the BLT is the dish of the
day. It was just so different than anything we have ever had.
---
Advertisement


Tot: 0.04s; Tpl: 0.018s; cc: 9; qc: 24; dbt: 0.0055s; 1; m:saturn w:www (104.131.125.221); sld: 1;
; mem: 1.2mb