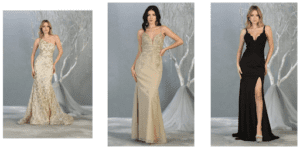 The sexy and dramatic, "deep plunging v-neckline" is having a big moment. Though the style isn't something new on the fashion chart, it is sure the key to looking a little bolder while taking the feminine appeal to the next level. 
From red carpets to streets, the deep v-neck trend is everywhere. It is certainly a style for fashionistas who look for stylish ways to flaunt their cleavage. 
Even if you're new to this trend, you may find it pretty fun wearing it. Here, find out the many great ways to style a plunging v-neck, whether it's a casual dress, a designer gown, or a party jumpsuit. 
THE SPAGHETTI STRAP SAGA
A spaghetti strap dress with a deep v-neck is something hotter than the sun. If you wish to go the boho route with this trend, consider the *one* in lace fabric and floral applique. It is the best way to add a touch of romance to your look. Many brides call it their go-to look for having a Cinderella moment with a modern twist.
Consider this illusion deep v-neck trailing foliage a-line May Queen dress for a better idea.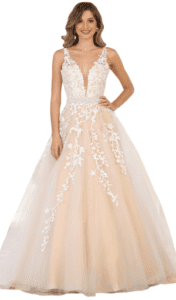 THE TOUCH OF BEADS
Is being the shine of the crowd your happy dream? A beaded dress with a plunging v-neck is the secret!
No matter the silhouette, the touch of beads exudes the sparkle, making the deep v-neck style even more glamorous.
You can easily get your hands on the *one* in the May Queen Couture dress collection to make your special occasion sparkling.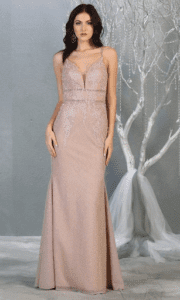 THE JAZZY "DEEP V-NECK" JUMPSUIT
Bring out the boss babe in you in a plunging or deep v-neck jumpsuit. It is one of the top trends of 2022, perfect for standing out from the crowd.
The best way to carry the deep v-neck jumpsuit is to pair it with a layered necklace. You're sure to make a statement wherever you go!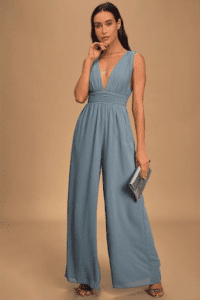 THE CLASSY HALTER "DEEP V-NECK"
Believe it or not, the halter v-neck showcases the shoulders and draws an eye upwards, creating a balancing effect. Bonus point if the v-neckline is slightly deeper.
While the style works for almost all body types, women with medium to full busts get the most benefit. Peep into this floral halter deep v-neck May queen gown for proof.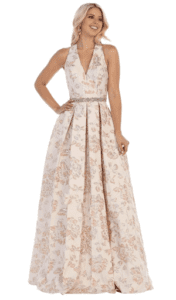 THE END?
The plunging or deep v-neckline trend has already made it a spot on the top. There is no time better than now to jump into the trend and create a sexier, stunning statement for a special occasion. Browse through the May Queen dress collection for exclusive dress styles with deep v-neckline.
This Year, Take The Plunge To Go Prettiest!