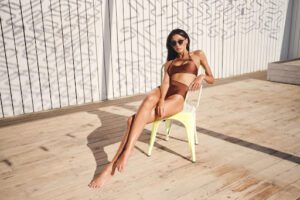 Without a pool or beach by your side, the number of times you wear a swimsuit doesn't entirely justify the money you pay for it. Shopping for a brand new swimsuit can be entirely frustrating with such a little return on the investment. If you think that women's swim bottoms or tops are only made for the beaches, then you need to think again. There are a lot of ways to wear your swimsuits, and it is all about mixing and matching. Bring the beach to you by following these tips. Believe it or not, swimsuits can do a double job, and they come in handy even if you are not going swimming. 
Athleisure
Instead of buying expensive sportswear, think of the ways one can follow to wear a swimsuit instead. Try wearing your swimsuit as apparel for playing tennis or golf, and you can even go with the different styling ideas. Try pairing swim skirts with sweat-free shirts or even with sports bras. The sassy swim skirts with matching tops are a perfect pick for slaying your look in the afternoon during your tennis match. 
Style bikini tops as crop tops
It is always good to pair palazzo pants with maxi skirts and ruffled swim tops that work great as a crop top. Dress up the entire look with the high heels, or keep it as cool and casual as possible with flats. Combine your swimsuits with your closet's brightest pieces, and you are ready to rock your look confidently. 
Basic Black Bikini Top
If a classic bikini is what you consider, you can think about mixing things up by sporting one with the fun geometric straps. Give your look a perfect touch beyond the pool by pairing it with the high-waisted circle skirt and sunnies. You can go with a swim top with a thicker band underneath the bust for some extra support. The addition of material makes it comfortable to wear as a normal top, same as the shorts that go higher at the waist or a maxi skirt. 
Bodysuits
You can wear a one-piece swimsuit as a bodysuit and tuck it into your denim shorts, skirt, or jeans, no matter where you are heading out. The body suits are really trendy these days, and the available options make it possible for you to mix and match the same. Rather than spending much on them, you can go with a one-piece swimsuit, and guess what? It will not even look like you are trying harder to enhance your look. 
Off-shoulder swimming suit
If you have a body suit that is off-shoulder, try it out with a shirt, and you are going to look at your best. Think about pairing it with a denim or a skater skirt – off-shoulder swimsuits always make a most versatile form of clothing. Among all, these are a go-to style for a birthday party. You can rock your look with ripped jeans and an off-shoulder top to get more than ready. 
There are enormous ways to style women's bathing suit bottoms or tops, but you need to go with the one that goes well with your personality. With the wider choices available, you need to choose the one that works very well even if you are not heading out to the beach.