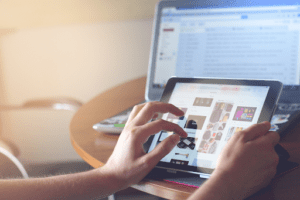 In this digital world, anyone can sell digital goods online and run their businesses anywhere in the world. For some entrepreneurs, digital products are a source of extra income in addition to their 9-5 job, whereas others build their entire business around these intangible goods. However, in both cases, one common thing is that they both leverage the benefits of selling digital products. 
So, what are digital products?
Digital products can't be held, touched, or tasted but everyone uses them. It includes music, ebooks, online courses, membership sites, website plugins, subscriptions, etc. What makes digital products popular and appealing is that you can sell these products repeatedly to different customers. You need not create these goods and replenish your inventory. Moreover, these products require little to no maintenance. Extremely high-profit margins and ease of distribution makes these products popular among businesses. 
In order to sell digital products online, you need an eCommerce website. However, building an eCommerce website from scratch is a time-consuming process. So, business owners opt for eCommerce site builder tools to convert their existing website into an eCommerce website. Before you look forward to selling digital products, you need to know the different types of digital products.
In this guide, we will discuss the most popular digital products you can choose to sell.
Types of digital products
Membership site: Membership sites have grown in popularity nowadays and will continue to rise in this digital age. So, you can own an eCommerce website to sell memberships for everything, ranging from music classes and personality development coaching to business classes.
Online courses: Online courses can be in any field, be it studies, dance class, or anything else. When you create an online course as per the field you are interested in, not only will you be able to earn money but also your potential customers will benefit from it.
Digital downloads: One of the most common and easiest digital products to sell is digital downloads. You can choose to sell a PDF file as your main offering or sell it with another service or program. However, having a large library of digital downloads will offer you flexibility in terms of how you sell your digital downloads. You can sell your digital download via download links in an email, or you can sell it via an online portal.
Subscription boxes: Offering a digital product with your subscription box is an excellent method to provide a great user experience. The best thing about this type of product is that you are not limited to physical products only. Instead, you can make your digital products popular too via subscription boxes.
The Bottom Line
Now that you know what digital products are and their different types, what are you waiting for? Find a reliable eCommerce site builder tool provider and convert your existing website into an eCommerce website to sell digital products online. Not only will this save your time but a lot of money too.