[ad_1]

Advertisement


Published: December 16th 2021
---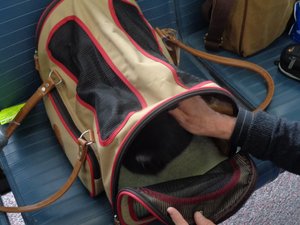 Are we there at
---
Waiting at O'Hare
The travel day is always the worst day of a vacation. This is even truer when you are traveling with your beloved cat. We were up at 4:30 to catch our 9:45 flight and all started well, Tarragon didn't even fight to much getting in his carrier. One of the many great things about living in Providence is that the airport takes about 10 minutes to check in and get through security (even if we didn't have TSA pre-check). Typically, when flying with Tarragon it takes a bit longer because he has to go into a special room so they can take him out of the carrier and run it through the x-ray machine. In providence that only takes about 10 extra minutes, unlike the 30 to 40 in Newark.
The flight was pretty good, a bit bumpy as we came into O'Hare where we had to change planes to get to Phoenix. We flew to Phoenix instead of directly to Albuquerque, because 1) we will be exploring southern New Mexico first and 2) we thought it would be an easier tip on Tarragon. Well, that was not exactly the case. We have learned a very important lesson already on
this trip. Not only does Tarragon need to be in first class (simply more room for all of us) but he needs direct flights. 12 hours was just to long for him to hold it, and he had a bit of an accident in his carrier, which of course we did not discover until we got to the hotel. He has fully recovered now, and Jerry did some emergency cleaning of the carrier so we are good to go for the rest of the trip.
We had a very friendly fly attendant on the leg from Chicago to Phoenix, spent a lot of time talking to us, also meant the wine kept on flowing freely. We also had a very friendly server at dinner, must have been in the stars that we got friendly people after 7 ½ years of not so friendly New York.
Not much to really report for today as it was a travel day. The real vacation starts tomorrow as we hit the road, in our very large SUV, picture tomorrow.
Our first dinner was Italian, as the rest will be very much southwest in flavor. It was pretty decent, the Ossobuco was
actually very good and to my delight hot. Jerry had a pasta trio, ravioli with red sauce, gnocchi with alfredo and penne with a Pomodoro sauce. They also brought him a side of Bolognese, which was good since it was petter than the red sauce. The dish was good, but lacked depth and seasoning (meaning garlic, not salt). We did have a nice bottle of Stags Leap Cabernet and of course started with some Prosecco.
That is all I have today for the first day. This is the first real blog about traveling I have done in two years. More interesting commentary will follow in the days to come. The dish of the day was clearly the Ossobuco.
---
Advertisement


Tot: 0.265s; Tpl: 0.015s; cc: 13; qc: 64; dbt: 0.0155s; 1; m:saturn w:www (104.131.125.221); sld: 1;
; mem: 1.4mb
[ad_2]

Source link